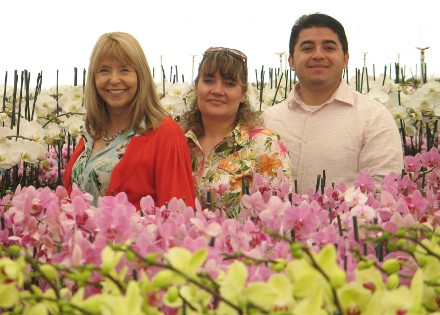 For more information or to place an order, please call 1-831-726-1797. We ship your orchids to all 48 contiguous states.
Production Nursery
2352 San Juan Road
Aromas, CA 95004
directions
Corporate Mailing Address
PO Box 2710
Watsonville, CA 95077-2710
San Francisco Flower Mart
In the San Francisco Bay Area, visit us at our retail location at The San Francisco Flower Mart.
688 Brannan St. San Francisco, CA 94107 415.546.4049
Hours: Monday – Saturday: 7am-3pm, Sunday: Closed
688 Brannan Street. San Francisco, CA 94107
Phone: 1-800-4-ORCHID (1-800-467-2443). Fax: 415-543-6836
Sales Department
Watch a clip of Live Well Network's "Home With Lisa Quinn" where they visit our San Francisco Flower Market Store filled with hundreds of beautiful Orchids. Roy Martin our store Manager assists Lisa with the selecting and caring for Orchids. View the video here.