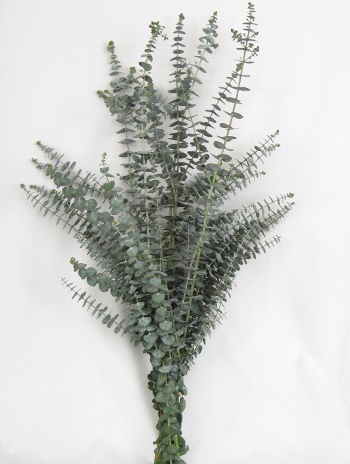 McLellan Botanicals/TaisucoAmerica's eucalyptus orchard was the first in the U.S. to grow this native Australian plant. Fresh eucalyptus provides a distinct yet classic look, clean fragrance and natural beauty. Our shimmering frosted fresh eucalyptus has long, extremely malleable branches making it easy to work with and preferred by designers. We harvest our fresh eucalyptus year-round.
Depending on your needs, McLellan Botanicals/Taisuco America can provide two standard bunch styles. First we have 20 stem Bouquet Bunches which have the bottom leaves stripped away making it ideal for fresh flower bouquets. Secondly, Growers' Bunches include stems ranging from 12-36" long, with lateral branches for unique and creative designs and arrangements. These stems are sold in one pound bulk bunches. We can also provide wreaths that are created exclusively of eucalyptus with a little bit of holiday decorations such as pumpkins and pepper berries. This product is perfect for home decorators and crafters.
Ask your McLellan Botanicals/Taisuco America sales representatives for more detailed information.