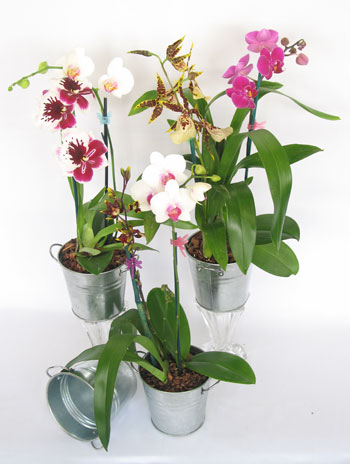 We cultivate hardy varieties that stand up to the challenges of retail distribution and a broad range of home environments. Our enticing array of plant varieties ranges from the most popular: Phalaenopsis, Oncidium and Miltonia to the exotic: Paphiopedilum, Cattleyas and other seasonal varieties.
The standard pot sizes include 3", 4" and 6" with a variety of flower sizes from mini to large. We have whites, and various shades of pinks, yellows and oranges. You can also find striped or spotted patterns in all colors. Our parent company, Taiwan Sugar Corporation, is our major breeder of Phalaenopsis, and is constantly developing new varieties with spectacular vibrant colors and decorative patterns to amaze our customers.
Our ever expanding acres of orchids provides a reliable supply with year round availability and large quantities. Please contact our friendly sales representatives for your ordering needs & shipping requirements.