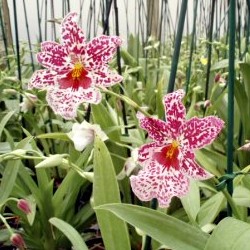 In the year 2000, Taiwan Sugar Corporation (TSC) acquired a century-old California family-owned business, becoming who we are today – McLellan Botanicals/Taisuco America. Throughout the years, our parent company, TSC has exchanged research, development and resources with us. As a result, our plants, especially our orchids, have earned a worldwide reputation for reliability, high-quality species and innovative varieties. In addition, our Taisuco spiral eucalyptus varieties thrive in our nursery's surrounding fields and is harvested and shipped year-round.
Our main nursery in Aromas, California, is located in the agriculturally rich Pajaro Valley. In recent years, we further expanded our acres of orchids operations from our beautiful California corporate facility to Texas.
Our mission is to supply the highest-quality botanicals to an ever-growing marketplace, while using the most advanced floricultural science and technology for the development of new hybrids and methods of delivery. McLellan Botanicals/Taisuco America continues to offer innovation in addition to the personal services which were previously provided for more than a century. We grow, select, package and ship from our greenhouses and fields to customers around the country. Each plant is personally tended and carefully shipped. We have thousands of unique
orchids ready for your year-round delivery.
When you choose McLellan Botanicals/Taisuco America, you access a wide array of products and a proven tradition of excellence in service and delivery.